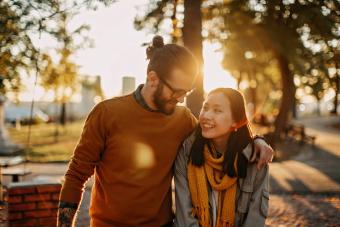 The best match for Capricorn needs to understand that this sign sees life as a slow, sure-footed climb to the top of a mountain and that this is also the way a Capricorn approaches relationships with the opposite sex. Pragmatic and stoic on the surface, earthy Capricorn may not seem romantic, but when Capricorn surrenders to love, the earth cracks and a warm, sensitive person is found beneath the surface. Dive into to find more about the Capricorn compatibility.
Capricorn's Best Love Matches
Capricorn is an ambitious sign and is most often attracted to ambitious partners over laid-back ones. The signs that seem the most compatible with the Capricorn include a loyal Taurus and a practical Virgo. However, number one on the list of best matches for a Capricorn is ambitious, goal-oriented, enigmatic Scorpio.
Scorpio
Often described as one of the power couples of the zodiac, Capricorn and Scorpio are a fascinating mix. Both move cautiously into a relationship and believe trust is something that must be earned, although neither gives it lightly. So, it could take months before either is comfortable enough for vulnerable moments. However, once trust and love are assured, they will be deeply committed to one another. These two are hard workers who value home, family, and security. Both are private and reserved, so this is a couple that typically prefers staying in rather than going out. These two also share a special sexual bond. Capricorn likes lusty sex, and Scorpio is just the person to provide it.
Taurus
Status, financial well-being, and achievement are important to both Capricorn and Taurus. Both are into strong, enduring relationships and share a traditional approach to love and marriage. These two will find much to admire in one another. Mutual admiration is the key to love for Capricorn and Taurus. Plus, when Taurus's high libido and Capricorn's incredible stamina are ignited, passion explodes. However, this couple needs to remember they are first and foremost lovers, not business colleagues.
Virgo
Kindred spirits Virgo and Capricorn are eminently capable of creating a successful and firmly based relationship. Both work hard and are committed to reaching their goals. These two will have a maturity in their relationship that bodes well for success in anything they do together. Sure, from the outside, this might not seem like a very exciting couple, but since regularity and security mean more to this couple than excitement, their quiet life together suits them well. Plus, they make each other feel safe, so sexual intimacy is assured.
Honorable Mentions
Just do it Aries, supportive Cancer, joyful Sagittarius, fellow Capricorn, and unconventional Aquarius all deserve honorable mentions as potential Capricorn mates.
Aries
Aries can bring out Capricorn's inner child with all of their upbeat energy, while the Aries just do it attitude can spur Capricorn on to even greater success. Both need a reasonable level of independence in the relationship and are willing to give it. As to sex, both are passionate, have strong libidos, and are confident. So, if a few kinks are worked out, like Aries's impatience and Capricorn's cautiousness, you're looking at another power couple.
Cancer
Cancer and Capricorn have a gravitational pull toward each other. Each will compensate for the other's weak points, and they both have a craving for home and family. Parenting is where this couple shines as a team. Raising kids is the ultimate honor for both, and both are loyal to family. This is a quality each respects in the other. At the end of the day, these two have enough in common to create a solid, lifelong match.
Sagittarius
With a little effort, this surprising pair can create an interesting and offbeat yet seriously fun and successful relationship. For the long haul, independent Sagittarius must allow Capricorn to be the rock, and Capricorn must learn to be a bit bolder and adventurous.
Capricorn
An all-Capricorn couple might seem to have been made for each other. Similar goals and needs in love provide a healthy and solid foundation for the relationship. They will just naturally respect and admire one another. Plus, they're both sensual beings and understand each other's needs quite well. While a tad on the mundane side, just a little frolicking can make this coupling quite a success.
Aquarius
Both Capricorn and Aquarius are quite cool emotionally and prefer fun sex to the heavy or overly romantic. As a matter-of-fact, sex was likely the initial attraction and could continue to be the life's blood of the relationship. Still, earthy Capricorn can be an important grounding force for eccentric Aquarius, and Capricorn's life will never be dull with an unconventional Aquarian.
Libra
Capricorn and Libra can expect a lot of dissension, debate, and a potential falling out when they get involved. Of course, there's always the possibility that Libra's friendly, upbeat nature can loosen Capricorn up and that Capricorn will inspire Libra to stop vacillating and take a stand. If this happens, these two might be able to work their relationship out.
Pisces
Frankly, Capricorn could find Pisces a bit slippery, and Pisces could feel emotionally neglected and move on. However, the differences between them do create a strong attraction, and if they stay together long enough, it's possible they'd make a perfect blend of stability, trust, and emotional excitement. But, this will be a tricky relationship to make work.
Gemini
In most cases, Gemini and Capricorn won't even be attracted to one another. However, if by some strange chance there should be an attraction, any relationship formed between these two will be a challenging, awkward, and complicated affair.
Leo
It's hard to resist the charm of an enthusiastic Leo, but Leo might be a bit extravagant and ostentatious for a pragmatic Capricorn. Of course, playful Leo can show Capricorn a good time, and Capricorn could prove the value of hard work to Leo. Certainly, both Capricorn and Leo are ambitious and will admire one another, but a relationship of any kind between these two would require a lot of adjustments that could be frustrating to both.
Synastry and Relationship Astrology
Certainly, there are unlikely couples who are absolutely devoted to one another, and sometimes a perfect match turns out less than perfect in the end. So don't forget Sun sign compatibility is just a general guide. Relationship astrology requires much more than a comparison of Sun signs. In relationship astrology, i.e., synastry, the interaction between both birth charts is examined, offering an accurate gauge of compatibility.
Capricorn: Your Conventional Lover
Are Capricorns good in relationships? Typically Capricorns have several primary love traits that can serve as positives or negatives in their romantic endeavors, depending on the circumstances and partners. When Capricorn is in love, many of these characteristics are emphasized due to the importance that Capricorn places on intimate relationships.
Prudent and loyal
Financially savvy
Protective and giving
Natural leaders
Passionate
Strong emotional control
A Bit More About Capricorn
Capricorn often gets a bad rap and probably takes the prize for being the Zodiac's most misunderstood sign. Most Capricorns need solitude, have a stoic manner about them, and when people don't know them well, they may seem aloof, uncaring, and even downright boring. But that's far from the truth. Sure, most are very reserved, but most Capricorns have a wry sense of humor, are caring, faithful, and have a forgiving nature that endears them to others. Additionally, if you've ever had a Capricorn friend or lover, you know that when you're in a sticky crisis situation, it's the cool-headed but warm-hearted Capricorn that comes to your rescue.