Picking a gift, especially for a man can be difficult and even more so if the man happens to be a Capricorn. These practical guys seem to need very little and want even less, and they hate for others to be overly extravagant where they're concerned. Nevertheless, they do enjoy gifts and below are some general tips and gift suggestions for employees, co-workers, friends, lovers, and wives to consider when gifting Capricorn man.
Suggestions for Employees and Co-workers
A Capricorn man is born to be a top employee and all-around success. He is the archetypal businessman; being organized, busy, and successful is what his life revolves around. However, his employees and co-workers know he's not all work and no play. He can be hilarious in a sarcastic, blunt, self-deprecating way and downright silly at happy hour!
Gift examples:
A coffee cup that's says something about him, perhaps "The Ruler of Sarcasm," or "Put Your Feet Up for a Moment and Relax." You can get a U.S. Art Supply oil based marker and pen this yourself, or go online to Vista-Print and use the tools provided there to create a personalized cup for about $10.
Big Personality Desk Sign that says "I'm Kind of a Big Deal," or I'm Not Bossy, I'm the Boss," available on UncommonGoods for only $28.00.
Turn something practical into something that will make a Capricorn co-worker laugh. With just six pairs of socks, some wooden skewers, safety pins, and these easy instructions, you turn men's socks into a "man" bouquet for his desk for less than $20.
Suggestions for Friends
A Capricorn man doesn't have a lot of close friends so if you have a Capricorn man as your friend, you're lucky because you can't find a better friend. He'll stick with you through thick and thin and always manage to keep you out if trouble. Plus, he has a crazy and fun side that comes out around friends. Actions can speak louder than material gifts, so the very best gift a friend can give him is to do something for him or plan to spend some quality time with him.
Gift Examples:
Pick up his tab for a night out at his favorite bar with you and a group of his closest friends. While the cost will vary, according to American Night Life Association the average is $55 per person.
Do something for him that's practical and unexpected, like detailing his car, will show how much you appreciate his friendship. According to CarsDirect, If you hire this to be done the cost can be from $50 to $150 depending on the vehicle. However, if you do it yourself, it costs you nothing but your time.

A Personalized Oak Whiskey Barrel will give your Capricorn friend's favorite whiskey a personalized spin. Price: $85 - $200 (not including the whiskey)
Suggestions for Families
Family and tradition are important a Capricorn. He's a man who feels connected to every single thing from his past and his childhood. Since his family has access to most of these memories, they can easily gift him with things that spark memories of his childhood.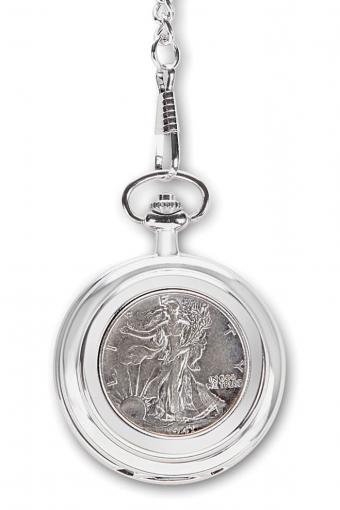 Examples:
Put a photo of your Capricorn family member in the center of a collage of old family photos. Here's a unique masculine looking Burnes of Boston Pallet Picture Frame that includes, adjustable clips, which will allow for you to set up his photos in a variety of ways. It costs around $55.
Commemorate his birthdate and keep him on time with this Hammacher Schlemmer exclusive engravable, year of birth, half dollar pocket watch. It costs around $100.
Suggestions for Lovers
A Capricorn man is an earthy, sensual, physical guy who takes love and making love very seriously.
Gift examples:
A Capricorn man likes nothing better than to lounge around with his lover in a sexy smoking robe or a pair of silk pajamas. Here's a sexy silk robe from Momme. It costs about $300.
Lingerie bought for you makes an amazing gift for a Capricorn man, but don't stop there. Think back on the best romp you had together in bed, throw him off guard, and give him another experience he won't be able to forget.
Suggestion for Wives
A Capricorn husband has unbreakable loyalty and an iron-clad determination to secure a comfortable life for his wife, fulfilling her dreams and protecting her. He's a man that understands what it means to love and to cherish. When a wife gifts a Capricorn husband the gift needs to say, "I love and cherish you also." You can refer to the lover's suggestions above or consider the wives suggestions below.
Gift examples:
A Love Book that is a custom made and lists of all those little reasons why you love, married and still appreciate your Capricorn husband. Price: $49.95 and up.
Get him away from the daily grind but planning a weekend road for the two of you. Visit The Travel Channel's 10 Road Trips You Can Take Over a Weekend for inspiration on planning that special weekend getaway gift for your Hubby. Though the cost of weekend trips will vary, the average cost, according to ValuePenquin, is about $150 per day.
Capricorn husbands also enjoy spending time at home with you and most Capricorns love and use music to relax, so there's a good chance that he might love a better sound system. Lifewire has a list of some of the best with prices ranging for $75 to $899.99
Other Gift Suggestions
A Capricorn man is actually not difficult to buy a gift for if you remember the tips and gift suggestions above. However, if none of the ideas given sparked your imagination, below are a few others that might.
Gifts that allow a Capricorn man to manage his time are a good choice.
He'd enjoy practical gifts with the flavor of the past:
A retro wooden Kiwi Select Shoe Shine box with all the necessary accouterments. Price: about $42
Gentlemen's Old World Shaving Kit has everything he needs for a great shave. Price: About $70
A Capricorn man would love any gift that is monogrammed:
Tips for Picking a Gift for a Capricorn Man
A Capricorn man is a serious, calm, strong-willed, take charge, hardworking, career orientated individual, who's emotionally reserved but also has a surprising sentimental side. So, when shopping for a gift for a Capricorn man keep these things in mind:
Traditional
Practical
Useful
Long-lasting
Something that relates to the passage of time
Something that show thought

His colors are of the Earth in winter, dark green, black, or brown
The #1 tip to remember about gifting a Capricorn man is that he wants to feel special.
Thought Counts
Remember when selecting a gift for a Capricorn man that he's not extravagant and prefers that money be well spent. So, no matter how little a gift costs or how ordinary it seems, if it shows thought and you've taken the time to wrap it uniquely, your gift will be very special to him.