Susan Miller's Astrology Journey
Horoscopes and bits of wisdom about how your day, week, month, or year will unfold have appeared in newspapers and magazines since the mid-20th century. However, due to the internet, 21st-century astrology is flourishing, and the queen of online astrology is Susan Miller.
Astrologer Susan Miller's Story
Individuals become professional astrologers for many reasons, however, when you hear their stories, they seem to have had an almost fated encounter with astrology. As the Zen proverb says: "When the student is ready, the teacher will appear." Susan Miller's "teachers" appeared when she was a child in the form of a debilitating congenital ailment, and a mother who was a closeted astrologer.
A Second-Generation Astrologer
Astrology was a part of Susan Miller's reality from the day she was born. Susan says that her mother "studied astrology before I was born, for a total of seven years" but "never read charts for others, but only for our family." Like many astrologers of her time, Susan's mom kept her astrological expertise private.
Born With a Congenital Ailment
Susan was born with a congenital ailment in her left leg that caused painful and very debilitating attacks that kept her bedridden for weeks at a time. Susan is quick to reveal that using astrology her mother predicted that her "illness would reach an apex when she was 14 years old." Just before her 14th birthday, Susan had "a massive attack," which took her to the hospital for "exploratory surgery to find out what was wrong."
Exploratory Surgery
Susan was bleeding internally and parts of her circulatory system "needed to be completely revamped and stripped." During the exploratory surgery, her doctor accidentally severed the "main nerve that fed her lower left leg." This accident caused Susan to lose all feeling and control in her left foot.
Long Recovery
Susan remained in the hospital for 11 months while her doctor worked to correct her circulatory system. Then continued as an outpatient "for six hours a day five days a week for the next three years" to regain her ability to walk without a brace and crutches.
Prayer and the Blessings of Jupiter
During these dark young years, Susan, a devout Catholic, "continually prayed for her recovery" but also studied astrology. Susan believes that "astrology never takes the place of religion" but also freely admits that she was "born with Jupiter, the giver of gifts and luck, in the house of health. It was one of many big indicators that my prospects for recovery were excellent!"
Susan Miller's Good Fortune
Susan Miller now says that it was "very fortunate that I had the health difficulties" because they "opened my heart wide to other's suffering." It could also be said that Susan's childhood health issues also jump-started her astrological journey.
Was Susan Miller Destined for Astrology?
Because Susan's mother was an astrologer, perhaps she was destined for astrology. But at the age of 14 and facing years of medical treatments, Susan decided she wanted to study astrology to find out if her "treatment would ever lead to a complete recovery." Susan begged her mother to teach her astrology. At first, her mother resisted, but eventually relented.
Susan's Mother and Teacher
Homeschooled by her mother, Susan was not only taught astrology, but she was also taught "philosophy, metaphysics, and theology." Susan praises her mother by saying: "I always refer to my mother as Little Mom-she is indeed tiny-but my nickname for her shows the deep affection I have for her and what she has shown me about life.
What Susan was Taught by Her Mother
Susan's mother/teacher put great emphasis on the "importance of communicating clearly." So, Susan was not only taught the math necessary to hand calculate charts, the technical aspects of astrology, and to be correct in her interpretations, she also learned to communicate without being misinterpreted.
Susan's Inspiration
Susan, who studied with her mother for 12 years, is now accredited by International Society for Astrological Research, and one of the world's most well-known astrologers says she's inspired by her readers "who tell her she's offered them creative ideas at critical points in their lives." It also seems clear that Susan was also inspired by her mother when she says, "I want to give my readers the same level of hope and inspiration that she gave me in my darkest period."
Susan Miller has Gone Digital With Astrology
Susan's Book, Planets and Possibilities, was devoured by her fans, but Susan has now chosen to use her time writing for her website, AstrologyZone.com. " Susan finds writing for her site "a total joy to do" and feels if she wrote books, she'd have to stop writing Astrology Zone and clearly states, "I don't want to do that." So, astrologer Susan Miller has joined the digital revolution.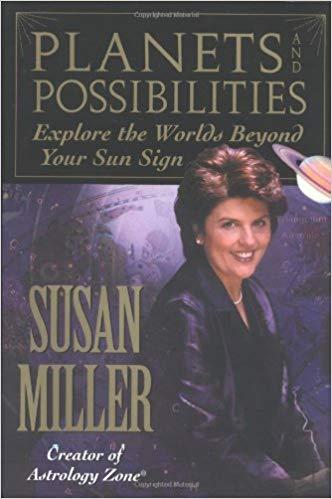 Susan Miller's Astrology Zone
Seventeen million people read Susan Miller's website or have an Astrology Zone app. Astrology Zone, which has served readers since 1995, had 310m page views in 2018. Here Susan offers Daily and Monthly horoscopes, Life and Love articles, and a compatibility guide, as well as a section devoted to learning astrology. Her website is free to browse, but for more extended readings, you'll need to subscribe. Susan's apps are available at the Astrology Zone Store.
Astrology As a Source of Hope and Inspiration
People talk about the difficult times they're living in, but Susan takes the perspective that "it's natural for things to be in flux," and goes onto say, "there is always a source of peril or fear, but also sources of hope and inspiration." She believes, like most astrologers, that "the planets systematically reward and challenge us, and that is how we build our character. If times were always easy, we would never get to flex our moral muscles, and we wouldn't be able to learn about ourselves and what is truly important to us."