Meaning of Each Tarot Card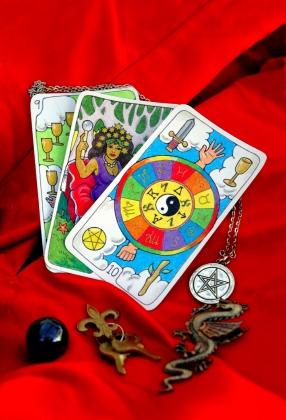 The meaning of each tarot card is open to interpretation, depending on which deck you use, and the feeling you get from each card as you progress through a reading. However, there are some standard meanings to each card, and learning those can help you apply a richer context to your reading.
Classic Tarot Card Meanings
The tarot cards are broken down into two distinct categories, the Major Arcana and the Minor Arcana. The phrase "Major Arcana" means big secret or mystery, while "Minor Arcana" means little secret or mystery.
Use the following meanings to help you interpret your readings.
The Major Arcana
The Minor Arcana
The Minor Arcana is comprised of four suits.
Swords: Cards in this suit denote agitation and action.
Cups: Cards in this suit predict emotional changes.
Wands: This suit signifies creative thought and development.
Coins/Pentacles: Cards in this suit pertain to physical comforts, career and money issues.
Upright and Reversed Card Meanings
The position of the card either in an upright readable position or upside down determines the meaning. Sometimes when the card appears upside down or reversed, the meaning is the opposite of the upright position. There are exceptions when the meaning isn't necessarily the opposite but simply a lesser degree of the upright meaning.
Relationship Between the Cards and Questions
In the simplest sense, the tarot cards are designed to unlock your unconscious mind so that you can discover the best way to proceed in your particular situation. The image on each card will hold a special significance for you and relate to your question in a very distinctive way.
In order to learn the most from your reading, be sure to let this process play out. Don't try to conform the cards to the "official" meaning. Instead, combine your own intuitive nature with the general meaning of the card, apply it to your question, and see for yourself if you can come up with a novel interpretation of both the card and your particular dilemma.