Powered by Tarot.com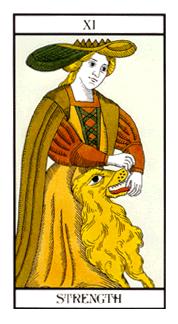 Card Art © U.S. Games Systems, Inc.
Fast Facts
Theme: Use your telepathic abilities to encourage harmony and cooperation.
Element: Fire
Number: 8
Alias: Force
This Deck: Angel Tarot
Today's Card for Everyone:
Strength
General Meaning: What has traditionally been known as the Strength card represents Nature which, however wild in its primal form, is tamed by our subtler, finer (feminine, interior) self. The will and passion of our instinctive nature does not need to be broken, but refined and brought to consciousness -- so that all levels of Creation, inner and outer, may come into harmony. The feminine soul-force contains a persuasive power that can nurture and induce cooperation from others, stilling disruptive energies by harmonizing differences in the spirit of collective good will.
---
Get your free tarot reading now
Don't Know Your Sign? Click here to find it!