Powered by Tarot.com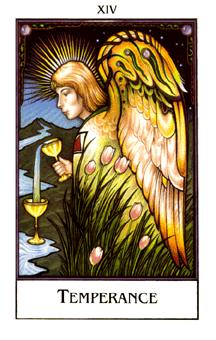 Card Art © U.S. Games Systems, Inc.
Fast Facts
Theme: The time is now for self-healing.
Element: Fire
Number: 14
Alias: Alchemy
This Deck: The New Palladini Tarot
Today's Card for Everyone:
Temperance
General Meaning: What is traditionally known as the Temperance card is a reference to the Soul. Classically female, she is mixing up a blend of subtle energies for the evolution of the personality. One key to interpreting this card can be found in its title, a play on the process of tempering metals in a forge. Metals must undergo extremes of temperature, folding and pounding, but the end product is infinitely superior to impure ore mined from the earth. In this image, the soul volunteers the ego for a cleansing and healing experience which may turn the personality inside-out, but which brings out the gold hidden within the heart. (This card is entitled "Art" in the Crowley deck.)
---
Get your free tarot reading now
Don't Know Your Sign? Click here to find it!