Free Numerology Readings: Where to Start
Updated December 21, 2021
Would you like to get free numerology reading? Well, relax, grab a cup of coffee or glass of wine, and start by researching the websites and free apps listed below. Twenty-first century technology makes it easy and quick to get a free numerology reading for yourself, your family, friends, a new love, or perhaps a prospective business partner.
Free Numerology Readings Websites
The four websites listed below are authentic and trustworthy numerology reading sites. They will ask for your name and birth date and no other information. Of course, you can't change your birth date, but if you've had name changes during your life, you might want to get a reading for each separate name and compare them to understand how changing your name may have changed your life.
World Numerology
World Numerology is the brainchild of renowned numerologist Hans Decoz. It has a numerology chart calculator that lists every number and cycle in your chart, including some unique to Decoz. Simply enter your name and birthdate, and it will generate a list of numbers based on Pythagorean numerology. Then scroll down the page to find each number's meaning. When appropriate, the calculator includes double-digit numbers, karmic debt numbers, and master numbers. For a different perspective, you'll also find a proportional chart maker which reveals the most dominant numbers in your chart.
iFate Numerology
iFate numerology is quick and easy. You simply enter your full name and your date of birth to get a complete, professional numerology report for free! Its calculator will create four important numbers, your "Life Path number," "Destiny Number," "Soul Urge number," and "Inner Dream number," based on the date of your birth and your name's numerical values. All four numbers are connected, and each plays off the other.
Café Astrology
Café Astrology offers "You by Your Numbers," a detailed free numerology report. You simply provide your full name and birthdate, and you quickly receive one of the most detailed free numerology reports offered online. Once the report is generated, you can click on the numbers and find further information about that number, including its positive and negative expressions and its association with tarot, astrology, I Ching, runes, gemstones, lucky numbers, months, days, and more.
iDivine Numerology
iDivine is the hub for several free numerology calculators based on the ancient Hebrew Gematria form of numerology, which some consider the most accurate of all numerology calculations. Here you'll get samplings of more in-depth reports that can be ordered from iDivine. You can try all of these to get a good idea about the in-depth information given from the samplings.
Free numerology name meaning
True love calculator
Daily numerology horoscope
The numerology of your home calculator
Multi numerology methods calculator
Perfect match "Gematria" calculators
Free Numerology Reading Apps
Handheld devices and smartphones are endemic in the 21st Century. This means that many numerology apps can be accessed by either iOS or Android in today's world. All the apps below are free, but some offer in-app purchases.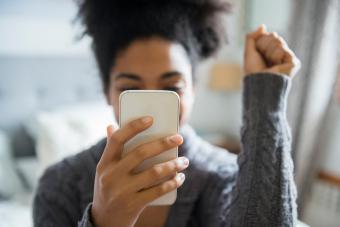 World Numerology App
The World Numerology App examines 18 different numerology readings created specifically for you. You get instant access to a free 8-page personal reading, free Daily Forecast, and three other free chart calculators. This is an app that you can use every day. It offers a daily, monthly, and yearly forecast, and you can make unlimited free relationship reports. Google Play store users give it a rating of 4.4 out of 5. Apple store users give it a 4.5 out of 5 rating.
Angel Number Signs
This app is not free, but you can use all its features free for seven days! Still, Apple store users and Google Play store users rate it 4.8 out of 5. This is an app to use when a number stands out in your day-to-day life, and you just place that number into the app to receive its angel number meaning. You can also ask the Angels for a message, analyze up to a six-digit number, ask the angels to pick a number for you or get the number of the day.
Numerology & Astrology
The Numerology and Astrology app provides the best of both. In numerology, it offers your destiny number, birthday number, desire number, karmic lesson number, inner strength number, and more. It also has tools that analyze your address and phone number, as well as a love calculator. Apple store users rate it a 4.7 out of 5. It's not available at the Google play store.
Complete Numerology
The Complete Numerology app features your life path number, soul number, and destiny number. You'll also find information on love life, hidden talent, fashion style, health, career path, and wealth. Google Play store users give it a rating of 4.1 out of 5, and apple Apple store users provide it with 4.4 out of 5.
Free Numerology Software
Suppose you're hooked on numerology and want to go further and dig deeper than free numerology readings on websites and apps. In that case, there are also many places you can download free numerology software.