Pros and Cons of Free Mayan Readings Online
You can find several pros and cons for the free Mayan astrology readings available online. The format of Mayan astrology is drastically different from traditional Western astrology. The Mayan astrological system evolved from its culture, spiritual ideology and unique calendars.
Assess Pros and Cons of Free Mayan Readings Online
You can examine the pros and cons of free Mayan readings online to determine the benefits and drawbacks you may find. When you know what a free reading might offer, you can approach it with realistic expectations.
Benefits and Pros of Free Online Mayan Readings
There are a few benefits to using the free Mayan readings feature on websites. These offerings are based on your birthdate. You shouldn't need to enter any other type of information.
You get a taste of what the entire report will include.
You can make a quick comparison to other types of astrological reports.
Some websites give you an overall view of the various signs with several details about your birth chart.
Most free Mayan readings provide you with information about your birth chart details, such as the best occupation and how your day sign influences the different stages of your life.
Drawbacks and Cons of Free Mayan Readings Online
One possible drawback to using a free Mayan reading is that most websites only offer you a tidbit of information. This morsel provides you with just enough information to give you a basic understanding of what to expect from a full reading.
Some websites require your email address and often more personal information in exchange of seeing more of the free report.
You may find contradicting information in various free readings, depending on the website's free calculator.
Some readings sum up your personality with a single day sign, but one Mayan glyph only represents a fraction of your persona.
Comparisons Between Mayan and Western Astrology
Mayan astrology is completely different from Western astrology. While Mayan astrology uses the same constellations, the Mayans used different names as well as interpretations from Western astrology. These, along with the Mayan calendar, are unique to their culture and belief system of cosmic energies and the evolution of spirit. These fundamental differences make comparing the two astrological systems impossible. It's more practical to approach Mayan astrology as its own unique system unlike others.
Unseen Energy Influences
The Mayan astrology concept is similar to the one found in all forms of astrology. This similar principle of unseen energies being at play in the grand scheme of things is the only real commonality it has with Western astrology. Whether the gravity of planets is a governing factor or some sort of supernatural energy flowing through the universe and determining the cause of things, energy is still the focus of all astrological charts.
The Value of Free Mayan Readings Online
Free astrology readings provide you with a glimpse into Mayan horoscopes, but rarely provide in-depth information. There are many influences and other calculations that are part of a complete astrological analysis. If you view the free reading as a way to learn more about Mayan astrology, you can find additional value in it.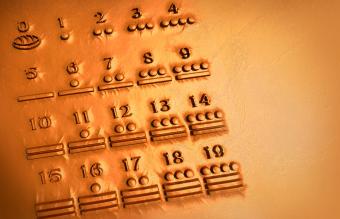 Free Myan Readings Give Limited Information
Many online calculators are programmed to give just the very basics, similar to reading a one-size-fits-all daily Western horoscope. Free Mayan horoscopes are typically not as reliable as the personal reading you receive from an experienced Mayan astrologer.
Where to Find a Free Mayan Astrology Reading
You can find several free Mayan astrology readings online. Pay attention to the details each one offers and compare for accuracy. You can learn quite a bit from quality free Mayan readings. Some websites use the same calculator software, but a few offer additional information that can add depth to your reading and understanding of Mayan astrology.
Mystic Scripts
MysticScripts presents one of the more thorough explorations of Mayan astrology. You will need to provide your name and birthdate. Once you enter these in the online calculator, you're taken to a page revealing your natal chart results. Your free reading includes, your guide, challenge, central, ally and occult. Each one is accompanied about an explanation that describes attributes you receive from it and how to be utilize them in life. The compatible or adversary sign is also given.
E Zine Astrology
E Zine Astrology offers two types of free Mayan readings online. Once you enter your name and birthdate into the calculator, you're taken to a page that gives your Mayan day sign and galactic number. You're also given a wealth of other information, such as your lucky color, best occupation, tone, Mayan name, and more. Another calculator is provided at the bottom of the results page that delivers a free Mayan zodiac sign reading.
Horoscope
Horoscope website offers a limited free Mayan calculator that reveals your Mayan sign. You are required to enter your birthdate. Your Mayan sign is revealed, and you can click on your sign in the 20 Mayan sign list located below the calculator. You can read about alternative names for your sign, gemstone, Mayan name, color, your direction, and more.
Star Root
Star Root offers a free online reading that gives more information than some calculators. You're only required to enter your birthdate. You'll need to have some basic knowledge of Mayan astrology to understand the significance of the information given. The results page provides the moon phase at the time of your birth, your dreamspell (lunar mirror) symbol and more. You can click on different aspects below the calculator to reveal explanations.
Understanding the Pros and Cons of Free Mayan Readings Online
You should evaluate your free Mayan reading and weigh the pros and cons of each online reading you try. Choose the readings that give you the best and most information to explore.