Capricorn Personality Traits: Keys to a Complex Sign
Capricorns are sensitive but stoic; loving but have difficulty showing affection; reserved but sardonic with a great sense of humor. The Capricorn personality is complex and often misunderstood. However, Capricorn traits indicate an individual with the power to accomplish whatever they set their minds to.
Keys to the Capricorn Personality
Understanding the sign of Capricorn is key to understanding the Capricorn personality. Capricorn is the Cardinal Earth sign of the zodiac. It's symbolized by the Sea-Goat, indicating a Capricorn's ability to keep their head while swimming in emotional waters. It's ruled by Saturn, the task-master and lord of karma and time. Capricorn is a Universal sign that looks at the world from a philosophical or metaphysical perspective.
Strongest Capricorn Characteristics
A Capricorn's strongest trait is the ability to persevere against all odds. They have a great deal of strength and practicality, as well as the ability to think rationally, logically, and deal with the hard facts of reality and overcome limitations. Capricorns set lofty goals, both personal and professional, then persevere and steadily work toward attaining them. Their goals are usually associated with their instinct to thrive in the physical world. Striving for success, recognition, and respect are important characteristics of any Capricorn.
Positive Capricorn Traits
Capricorns are ambitious and always driven to do more and do better. They are responsible, self-controlled, and determined individuals, who, even as children, have a mature and disciplined approach to life. It's often said that Capricorns are born old and grow younger with age. At their best, Capricorns are confident, loyal, faithful, tolerant, helpful, and sincere.
Negative Capricorn Traits
Negatively, a Capricorn can also be melancholiac, pessimistic, depressed, and cynical about life. Some can be withdrawn workaholics. At their worst, a Capricorn can be demanding, cold, stern, suspicious, resentful, inhibited, and stubborn.
Capricorn Traits in Relationships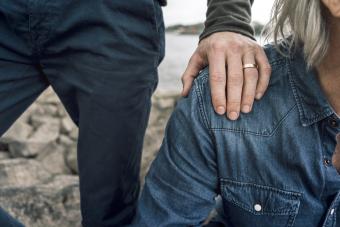 A Capricorn will protect everything and everyone they love. Typically, they aren't demonstrative, but that doesn't mean the affection is not there. In most cases, they will have an affectionate and playful side with members of their "trusted circle." However, affectionate or not, if a Capricorn loves you, their love is strong and long-lasting. Capricorns are loyal, faithful, helpful, and dependable friends or marriage partners.
Female Capricorn Traits
A Capricorn woman is a feminine charismatic woman who personifies grace, keeps her act straight, whether in public or private, and has a quiet demeanor. She's strong, confident, and has the steely determination to realize her dreams, goals, and aspirations. However, she has a soft, protected heart, loves children, and is typically a hard-working career woman who can also be a great mother and wife.
Male Capricorn Traits
Capricorn men have a bold but cautious disposition. They are typically overly ambitious, independent, and possess a great sense of responsibility. They're loyal and considerate by nature, but not openly outgoing or gregarious. A Capricorn man is a family man, a trustworthy partner, and a great provider. However, Capricorn men are also more controlling than Capricorn women and also likely to be more focused on their worldly ambitions.
Capricorn Eminent Personalities
Capricorns are ambitious, prone to look to the future, maintain control of themselves, keep their eyes on the prize, and make the most of their time. As the eminent personalities below prove, success after success is the name of the game for a Capricorn.
Elvis Presley
Born January 8, 1935, Elvis Presley rose to prominence in the late 50s and is the best-selling solo artist in Pop history. He was born in a two-room house in Tupelo, Mississippi. In true Capricorn fashion, Elvis climbed up from his humble beginnings to reach the pinnacle of success by creating music that challenged the social and racial barriers of the time, ushering in a whole new era of American music and pop culture. Elvis still holds the title of the "King of Rock 'N Roll."
LeBron James
LeBron James, born December 30, 1984, in Akron, Ohio, had a difficult childhood. This is common for those born with the Sun in Capricorn. Nevertheless, he also had the determination and drive of a Capricorn to make something of himself. His size and athleticism led him to become the legendary superstar of the NBA.
Michelle Obama
Michelle Obama, born January 17, 1964, is the epitome of a Capricorn woman. She came from modest means, was salutatorian of her high school, graduated cum laude from Princeton University, attended Harvard Law School, and worked at the Sidley Austin law firm. She had a career in public service and more-all before she married former President Barack Obama (Leo). As America's first African American First Lady, she brought her Capricorn grace, dignity, and charismatic disposition to her role as FLOTUS.
Martin Luther King
Born January 15, 1929, Martin Luther King was a clergyman and the leader of the African-American Civil Rights Movement. King used civil disobedience to combat institutionalized racism. He exemplifies a Capricorn's ability to inspire others with their dedication to something they believe in and work hard toward.
Gabby Douglas
Gabby Douglas, December 31, 1995, is an American gymnast who, in 2012, became the first African-American woman to win the gymnastics all-around Olympic gold medal. She also won the team competitions at the 2012 and 2016 Olympics. Gabby is an excellent example of a Capricorn's early determination to make their mark on the world.
Steven Hawking
Born January 8, 1942, Stephen Hawking was the legendary physicist renowned for creating a cosmology that relied on the unification of the theory of relativity and quantum mechanics. Capricorns deal with reality. When the going gets tough, the tough get going. Hawking didn't discover what he did "in spite of" his disability. As a Capricorn, he persevered and lived with the reality of his wheelchair existence every single day and made his mark on the world.
Justin Trudeau
Born December 25, 1971, Justin Trudeau is a world leader and Canadian politician who became Prime Minister of Canada in 2015. Capricorns born into privilege often follow in their father's footsteps; Justin's father served as Prime Minister of Canada for over 15 years.
Julia Louis-Dreyfus
Julia Louis-Dreyfus, born January 13, 1961, is a comedian and actor best known for her work in "Seinfeld." However, this Capricorn woman didn't stop there; she went on to more success in "Veep." Over the course of her career, she's received a "Golden Globe Award," seven "Emmy Awards," six "Screen Actors Guild Awards," five "American Comedy Awards," two "Critics' Choice Television Awards," and in 2014 was inducted into the "Television Academy Hall of Fame."
Clarity, Purpose, and Resilience
All Capricorns are different, and their complete natal chart tells each individual's story. However, most are self-sufficient, cool-headed, great a crisis, and committed to their families, friends, and careers. It's in Capricorn's nature to forge ahead, overcome any doubts and fears about what they can accomplish and who they can become. Capricorns have a clarity of purpose and resilience that's unmatched by any other sign of the zodiac.