Powered by Tarot.com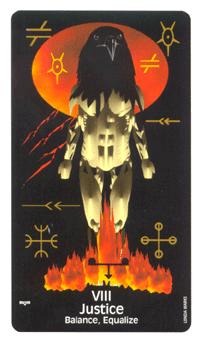 Card Art © U.S. Games Systems, Inc.
Fast Facts
Theme: Balances the scales to serve the greater good.
Astro Association: Justice
Element: Air
Number: 11
Alias: Karma
This Deck: Crow's Magick
Today's Card for Everyone:
Justice
General Meaning: Traditionally, what has been known as the Justice card has to do with moral sensitivity and that which gives rise to empathy, compassion and a sense of fairness. Since the time of Solomon, this image has represented a standard for the humane and fair-minded treatment of other beings. Often including the image of a fulcrum which helps to balance competing needs against the greater good, and a two-edged sword to symbolize the precision needed to make clear judgments, this card reminds us to be careful to attend to important details. It's a mistake to overlook or minimize anything where this card is concerned. The law of Karma is represented here -- what goes around comes around.
---
Get your free tarot reading now
Don't Know Your Sign? Click here to find it!